Netflix's original film Bird Box is a bona fide cultural phenomenon. Based on the equally successful book of the same name by Josh Malerman, the movie – which stars Sandra Bullock, Sarah Paulson, Trevante Rhodes, and John Malkovich – has spurred numerous memes, fan theories, and an ill-advised blindfolded "challenge."
The post-apocalyptic film centers on Malorie, who must shepherd her two kids down a dangerous river toward a sanctuary with enough food and supplies to last them several years. She must do so completely blindfolded, as there are creatures lurking about that, if looked at, can drive a person mad. The story also features flashbacks to five years prior, detailing Malorie and a band of other survivors' attempts at learning as much as they can about the monsters causing chaos outside their walls.
Malerman's novel follows much the same narrative path, though there are several scenes within the pages that were too intense for the adaptation.
Malorie Makes An Impossible Decision About Raising Her Children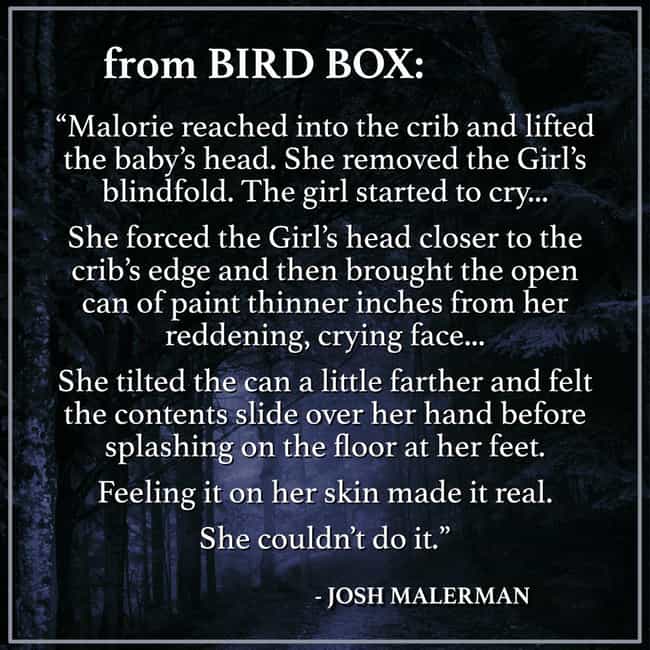 We don't see much of Boy and Girl's infancy in the film version of Bird Box – they are born, and then the narrative jumps ahead five years, revealing that Tom and Malorie have been raising the children in seclusion. In Josh Malerman's novel, however, Tom perishes in the house after Don – acting on Gary's orders – lets the monsters in, leaving Malorie to raise the children on her own.
The horror of bringing up two children in this post-apocalyptic nightmare is palpable, and Malorie finds value in a harsh bit of advice she received from Don early in her pregnancy: she should forcibly remove the children's eyesight to ensure their safety.
Malorie nearly follows through, grabbing a can of paint thinner she knows will damage Girl's eyes.
Hits: 100